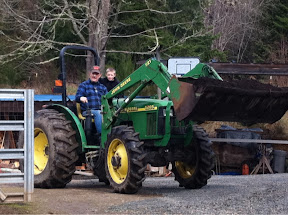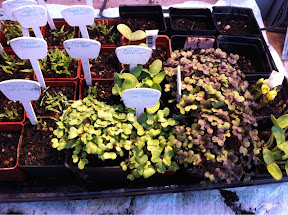 My daughter,
Kristin
, and I usually plan gardens around each other. We get the seeds, I usually start a lot of it in my greenhouse, she usually comes to help repot, then we split stuff up. It's fun and helps each of us.
This year she gave me 9 different tomatoes, I think around 6 peppers, all different things. 9 tomatoes Kristin? You're a crazy girl! She gave me a red and green cabbage too. This time I tried a system of a guy I saw on YouTube, and decided yo put a whole pkg of each in the little pot. I definitely didn't think they'd all start, but they did, and now we're the proud owners of way too many starts! I hate to let so many go to waste, but I'd probably have enough cabbage to supply a sauerkraut festival!
Today Randy, my 2 youngest, and 3 of my grandkids got out and played in dirt! Randy and Caleb (grandson) hauled horse manure with the tractor, then they dug holes and planted fruit trees, while my granddaughter (Talia, 3), planted potatoes.
I feel so blessed that family is so near, even my parents! They're just acres away! I can't imagine not being near family!